SucculentGuide.com Big Picture Project
Contribute Images of Succulents for Use On SucculentGuide.com
About the Project

The Primary Objective of SucculentGuide.com is to aid in the identification of succulent plants. While textual information such as genus descriptions, species notes, and articles continue to be added to meet this objective, the centerpiece of the site is the collection of images. If "a picture is worth 1000 words", then the images collected to date and those yet to be added are equivalent to many books. At the onset of SucculentGuide.com, I had intended to only use my own photos on the site. As time went on and I made connections with other cactus enthusiasts, especially through the Cactus and Succulent Forum, many expressed interest in contributing their own images, especially where I was lacking them. At first, this meant adding an image for those species without any pictures. The project has since expanded to include many pictures that represent species in habitat and cultivation as well as different structures such as flowers, fruits, spines, and so on.


How To Contribute

Accurate Naming:
Since proper identification is the goal, only images of plants that are positively identified should be sent. This may seem obvious, but as thousands of people visit the site each day seeking identification, accuracy is essential! It is not necessary, however, to use the default nomenclature found here as I will use the appropriate synonyms whenever a different taxonomy is used. For example, an image sent as "Idria columnaris" will be listed by default under "Fouquieria columnaris" *.

Sending the Images:
For a small number of images, sending them in an e-mail is most efficient. My address is daiv@cactiguide.com. Clicking this link automatically includes a subject line, this should be left in tact to alert me that the images are intended for the Big Picture Project.

For a larger number of images, these can also be sent to the e-mail address above a few at at time or in a zip file. If the images are already posted on the internet on a website or photo hosting site such as "webshots.com", I can also copy the images from that location.** Other options include sending a CD/DVD in the mail or uploading to an FTP server. In any case, I am flexible and can accommodate most any method that works best for the contributor.

Size of Images:
Larger images are preferred over smaller ones, but when sending electronically, the larger the images, the harder it is to send. Many modern digital cameras take very high quality, high resolution images that are just not necessary for use on the web. The minimum size image that I use on the site is 600 pixels height or width. I use two thumbnails and one large file for each image. All thumbnails are cropped to a 4:3 ratio (w:h) to maintain consistency on search pages, but the large image can be any ratio. Here is an example of an image with a different ratio that has been cropped: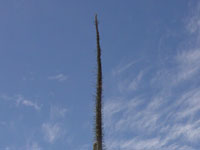 Click thumbnail to see the large (uncropped) image


Proper Credits
For each image, I list the photographer's name and the photo location. I prefer using the photographer's first and last name, but have listed only first names or an anonymous name when requested. If the plant pictured is in cultivation, the name of the collection is preferred, but this can also be listed simply as "Private Collection". Images of plants in habitat need not be overly specific, but a fairly local description is desirable. Some examples of habitat location are: "Organ Pipe Cactus National Monument, AZ", "Near Colonet, Baja California, Mexico", or simply "Habitat in Peru".

An additional, but optional link may be added with each photographer. This can be a link to a personal website, an online photo album, or an organization that the photographer is associated with. On this example page you can see a photographer with a link to a personal website and another listed with no web link.


What to Expect

Image Selection
Not all images that are offered will be used on SucculentGuide.com. Dubious identity, poor image quality, or redundancy may prevent me from using some images, but ultimately it is a matter of how well I think the image will fit in line with the Primary Objective of the site. If I opt not to use an image, it should not be taken as an insult in any way.SucculentGuide.com is not a Wiki nor is it a public works project. It is also not a photo share site (e.g. Photobucket.com) for individuals to catalog their personal collections. Note: I really dislike watermarks and while I have posted images with watermarks, I am quite reluctant to do so.

Compensation
No compensation should be expected at the time images are offered or at any time in the future. SucculentGuide.com does not charge for any of the abundant information. All of the information is posted to the web freely for everyone to enjoy. All expenses up to this point have been paid for by me personally for the enjoyment of the hobby. Some revenue is generated though the NurseryLink system which is paid by Nurseries who list their plant availability, but this will not affect the use of photos. I will not implement any changes which capitalize on the images - such as charging to access the images or selling a photo CD. In other words, all info on this site is provided free of charge. Links to nurseries that make sales of plants, generate a small amount of income to help support this project.

Image Use
As mentioned directly above, I will never use images for any purpose other than listing them along with the appropriate species or in articles posted only on SucculentGuide.com. I also will not modify the images in any way other than cropping the thumbnails as described above if that is needed. Furthermore, I assume that image permission is granted by the contributor strictly for use on SucculentGuide.com as described on this page. I do not assume permission for third party use or for my own use on any other project. From time to time, I get requests from third parties for this reason and I will forward the request to the contributor. In this case contributors are not obligated to respond if they choose not to.

Time of Use
Once I have posted an image on SucculentGuide.com, the time/length of use should be considered indefinite. Contributors should not expect to have their images removed in the future. The reason for this is twofold. First, it is difficult for me to find the time to get all of the images posted to begin with. I certainly do not have time available to "move backwards" on the site by removing images. Secondly, I do not want users who have found an image helpful to come back later to find it missing. In short, I'd rather not post an image at all than post it and remove it later. There are exceptions to this, such as a mis-identified plants, but images should remain permanently for the most part.


Contributors

To date, there are 66 people who have contributed images to SucculentGuide.com. These contributors can be seen on this page. I am very grateful to everyone who has helped with this project. Likewise, many visitors to the site have expressed their appreciation for the information on SucculentGuide.com. Everyone who has contributed should gladly share in the accomplishment. This site would not be what it is, if not for the many generous contributors to this project!


* For more information about the nomenclature used on SucculentGuide.com, visit this page.

** I prefer not to use images that are already prominently posted on web-sites which show up in the same web searches as SucculentGuide.com. Images that are posted on Wikipedia are an example of this.

A list of species without even a single image can be found on this page.